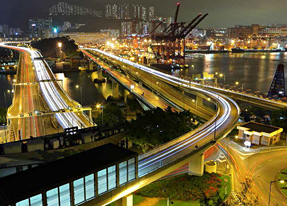 Transportation and communication play an important role in the economy, government policies, our livelihoods, and our daily lives. We have been dedicated to transportation automation technologies for many years, and its automation system and solutions have been successfully applied to airports, railroads, harbors, highways and urban public transportation nets in China. With the growing popularity of transportation system informatization in cities, we provide the best solutions for the power systems of four main transportation industries, creating a safe and reliable transportation experience for all.
Delta Tunnel Control
Taiwan is a narrow and mountainous island, where highways, roads, and railways must go through tunnels. Currently there are more than 3000 tunnels with a total length of around 150km in Taiwan. In China, the traffic network has developed rapidly and it is now the country with the most tunnels in the world. 
The fast growth and complexity of tunnels comes with increasing demands for tunnel control solutions. Delta has integrated its industrial automation products and solutions into a multi-layered decentralized tunnel control solution. This solution effectively masters and records traffic and facility operation in tunnels and ensures user and operator safety. 
Smart Traffic Power Quality Management Solutions
We offer innovative smart traffic solutions for fulfilling the requirements of a smart city. A smart city is the archetype for a smart earth. It represents today's innovative urban development affecting city management, social development, living environment, public connections, daily operations, livelihood, entertainment and social activities. Smart traffic is an important aspect of a smart city, which also extends to cyber city, digital city or U-city developed using internet information. Its application can be closely and innovatively combined with people's behavior patterns, habits, economic growth, policies, laws, and more. 

Smart traffic control system and equipment finds application in harsh environmental conditions, such as hot, cold or dusty locations with electromagnetic interference, lightning, static electricity, vibration, or impact. As a result, it requires automation solutions and communication devices with high reliability and safety, such as automatic fault alarms, automatic trouble shooting devices, backup power supplies, and more. To assure the smooth operation of smart traffic control, the solution system and equipment require

.High reliability
.Alarm functions with intelligent system monitoring to avoid system damage
.Effective management for users to easily master the operation of industrial Ethernet connections
.Rapid system reconnection after interruption for equipment safety and normal operation
Vehicle infractions, such as driving through red lights and exceeding the speed limit on busy intersections are common, severely affect traffic safety. To improve smooth crossroad traffic, we offer red light drive-through detection and photo-shooting solution to detect, capture, record and manage infractions.
Solution : Delta's red light drive-through detection and photo-shooting solution sets four DVS Series managed industrial Ethernet switches, with each connected to the camera in opposite directions. Through a ring network structure, four managed industrial Ethernet switches are connected. When the vehicle detector triggers ground induction and a camera to capture a vehicle's information going through a red light, the industrial Ethernet switch uploads the data to a control center through optical fiber via a built-in Gigabit fiber port. This ring network structure is based on a Gigabit internet with transmission speed ten times faster than the standard internet. It does not require a fiber transceiver and needs much fewer network nodes than traditional systems. The simple Delta
Smart Traffic Control & Communication Solution
To realize data collection, transmission and management in one solution, Smart traffic control solution adopts DVS Series managed industrial Ethernet switches for fiber network connection. The DVS Series has built-in fiber connection ports and is able to conduct high-speed data transmission for further management and backup in the control center of the Department of Transportation.

Solution: With a double star network structure, Smart traffic control solution adopts DVS Series managed industrial Ethernet switches for an onsite system to send out violation signals to cameras for photo shooting through an embedded-controller. The captured photos and information are transferred to the control center, and the server identifies the vehicle's identity. The double star network structure easily supports extension, and with the DVS Series built-in fiber ports, the traffic control system has strong anti-interference ability to solve system issues caused by multiple fiber network nodes. The high operation temperature toleration and back-up power design of the DVS Series can greatly enhance system reliability and safety, forming a complete traffic control solution.

Smart traffic control solution is currently widely applied in many regions in China. It perfectly satisfies the need for systems in intelligent public construction, providing a more efficient and convenient traffic monitoring and control system. Delta continues to support the realization of smart city and provide a better living environment for all.