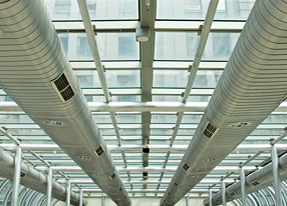 HVAC Solutions, An air-conditioning system mainly consists of three systems - air, chilled water and cooling water. Traditional designs made the machine quite big and required a large amount of space to ensure that it could achieve the desired cooling effect. This not only increased expenses in the preliminary design but also cost more as air conditioning systems always operated at low load conditions. In addition, the issues of energy savings were usually not taken into account when constructing an air-conditioning system. Some air-conditioning systems ignored overall system balance, control settings and adjustments so that the whole system operated under improper conditions over a long period of time.
The capacity of the air-conditioning system would not fit the space size for efficient and satisfactory operation. The equipment wasted much energy and was not able to reduce energy consumption according to indoor heating and cooling load reductions.
In view of this situation, we  provide an energy-saving air-conditioning solution that employs Delta's programmable logic controller (PLC) and Variable torque AC motor drives, which are specially designed for medium and high horsepower fan and pump applications. This solution can be used in air conditioning, chillers, cooling towers and ice storage systems to detect temperature and humidity changes, time scheduling, and operational controls according to the demand for creating the most comfortable indoor air quality in the most energy-efficient way.