Delta's Active Power Filter APF2000 is your key to a clean grid for more efficient production. Today's automation equipment benefits us with a more convenient life style and cost savings from higher production efficiency, however it can also bring significant power distortion problems that can lead to energy loss, increasing costs and many other power quality issues.
Power quality is a major influence on power efficiency. A clean and efficient power system normally generates a sinusoidal current waveform, but the electric equipment used in today's industrial automation industry generates non-sinusoidal currents that tend to cause power quality problems. Voltage or current distortion, reactive power impact, and unbalanced loads, are common problems that lower power reliability and power efficiency and also increase operation costs. Major concerns in the industrial automation industry are how to improve power quality and how to manage power grids.
Delta's APF2000 adopts the industry's highest standard 32-bit digital microprocessor to instantly compensate for all types of harmonics for ultimate power quality improvement. Perfect control of harmonic distortion reduces power loss and heat generation. The APF2000 is compact in design for all users to manage their space efficiently and is mounted with 65,536-color TFT HMI for more realistic images and a vivid display. The ultimate mission of Delta's APF2000 is to provide you with improved power quality, lower energy loss and lower maintenance costs.
Features & Benefits
Delta's Active Power Filter – APF2000 is a power filter device that can monitor load current and filter harmonics in real-time to maintain a clean line current. It monitors the load current in real-time using a current transformer and injects the exact opposite phase to the network of components that are to be filtered. It can also provide leading and lagging reactive current in real-time to improve the power factor and compensate reactive power.
Applications
Metallurgy and petrochemicals industries: rectifiers, converters, rolling mills, electric arc furnaces, medium frequency furnaces, inverters
Chemical and electrolysis industries: rectifiers, calcium carbide furnaces, electric soldering, inverters
Mechanical industries: rectifiers, rolling mills, inverters, electric arc equipment
Metal, paper, plastic processing and textile industries: rectifiers, rolling mills, inverters, electric arc furnaces, electric furnaces
Transportation industries: rectifiers and inverters for electric vehicles, electric motorcycles and metro systems
Automobile manufacturing industry: soldering equipment, car painting equipment, battery chargers and inverters
Telecommunication, medical and construction industries: Server stations, EPS, UPE, converters, chargers, inverters.
Specifications
Excellent filtering result and provides harmonics compensation up to 90%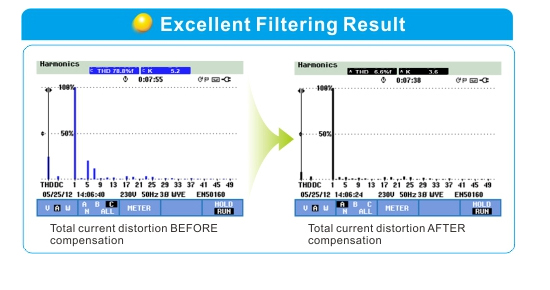 Compensation for harmonic current, reactive power, power factor and load balancing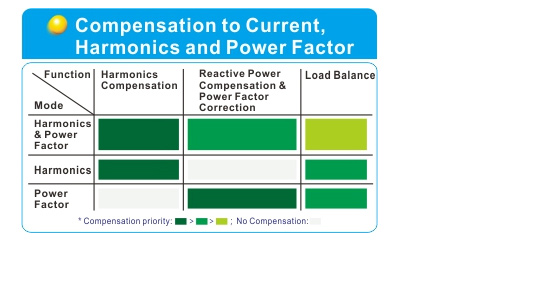 Advanced Modular Design: Safe, Reliable, Labor-saving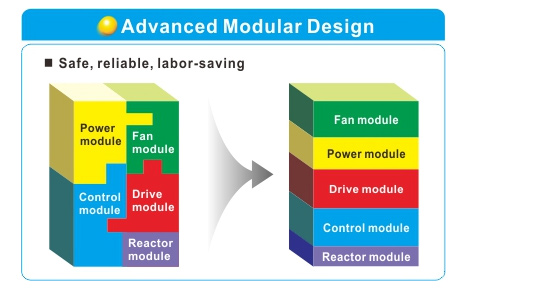 Provides diversified communication network and optional fieldbus cards