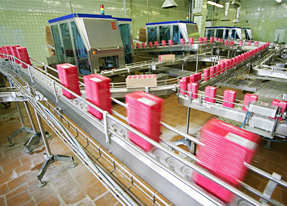 In a market full of choices, packaging and the product itself matter a great deal to consumers. The packaging quality reflects the product quality. Attractive packaging can be crucial in getting first time buyers to buy products and can be a key factor in purchasing decisions. In addition to focusing on the appearance of the packaging, the major brands have also begun to control all the details of the packaging production process.
For packaging manufacturers, increased labor cost is the main issue. Fully automated control production can replace manpower, and enhance and reinforce the development of the industry at the same time. This has become the motivation and developing trend in the continuous growth of the packaging industry.
We  provide a total solution that has the speedy, precise positioning, high-speed monitoring and system stability that is required for the packaging industry. Especially with Delta's high-speed, high-response, high-accuracy servo system, this total solution provides an excellent synchronized follow-through function that responds rapidly and has accurate correction capability for achieving positioning precision and increased productivity. High resolution AC servo motors also provide smooth operations. No additional acceleration and deceleration are required and noise can be reduced. Damage to mechanical structures and maintenance costs are also greatly decreased.
Connected with Delta's new DMCNET motion control network, the entire system is smoothly linked together to provide high performance for multi-axis motion control and avoid unnecessary waste due to calculation errors and mistakes in lead time. To achieve high-speed production, both efficiency and quality have to be improved. This is also the mainstream trend for the packaging industry in the future.