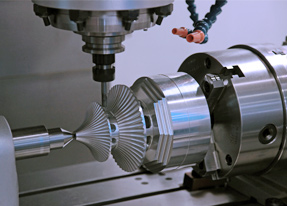 A machine tool, also known as a "machine center", is used to cut and fabricate precision metal components for machinery. Its main applications are in industries such as automotive, aircraft, aerospace, military, machinery, molding, electronics, and power stations. Machine tools, also called "mother machines" for giving birth to new mechanical products, are used for manufacturing the metal components of various mechanical devices and equipment. Machine tools are divided into three types: manual metal-cutting, numerical control (NC) and computerized numerical control (CNC).
Based on customer demands and market trends, We  provide CNC controllers, spindle motors and drives, and AC servo motors and drives which offer constant speed, constant torque and the accurate position control required for machine tools. Through continued research and innovation, Delta Industrial Automation has launched the new high performance NC300 series CNC controller. It supports the standard ISO G-code format. Connected to Delta's ASDA-A2-F series servo systems, permanent magnet spindle systems and next-generation DMCNET communications network, it can process high-speed data transmission and achieve high-speed motion control easily. Equipped with 3 servo axes and 1 spindle machine, this controller provides a complete output and input interface sufficient for carving and milling processing. The NC300 control system is particularly suitable for mold processing, milling, cutting and drilling applications.
Keeping pace with the changing demands of the machine tool industry, we continue to work closely with industry to develop extensive and specialized products and automated control systems. These offer the high efficiency and high precision required for mechanical manufacturing and CNC machining that help customers gain a competitive advantage in the international market.