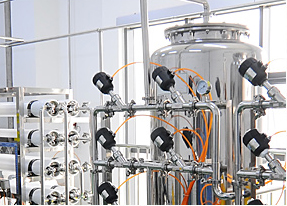 Air compressors are some of the most common devices in factories. The main function of an air compressor is to transform electric power into pressure by processing the surrounding air.
This is a main power source in factory automation control. Air compressors adjust pressure displacement by using inverters to control the motor speed for different amounts of air outlet.

We have launched general purpose vector control AC motor drives to optimize air compressor performance. The precise variable frequency control function ensures all of the power energy is used for generating compressed air which eliminates the problem of power waste during free load operation and improves power efficiency.
The drives provide an energy-saving solution for air compressors that benefits with lower operation cost and precise pressure control, while also extending compressor life and minimizing noise. The AC motor drives offer the most efficient solution for rotary screw compressors.